Josh from GRNow interviews Lisa Jabara, owner of the new Brush Studio in East Grand Rapids.




by John Sinkevics

The headlines could say it in so many different ways.

"Gov't Mule really kicked it Thursday night."

"The Mule had fans braying for more."

"Warren Haynes – and the sun – turned up the heat on a sweltering summer evening."


Puns aside, Gov't Mule and its diehard fan base worked up quite the sweat on Thursday in the band's first-ever appearance at Frederik Meijer Gardens & Sculpture Park, bringing blues-tilted rock and dazzling musicianship to the outdoor amphitheater on the absolute hottest night of the year.


Read more...
Josh from GRNow interviews Jill Wallace from Goodwill of Greater Grand Rapids about their new boutique store called 'blue' in downtown Grand Rapids.




Celebrate America's independence with fireworks, parades and special events in Grand Rapids and around West Michigan. All activities take place Wednesday, July 4, 2012 unless noted. Highlights:


Amway 4th of July Family Fireworks - Fireworks will once again return to Ah-Nab-Awen Park at dusk. A parade will kick things off at 5 p.m. at the corner of Monroe & Lyon, followed by entertainment and live music on the Ah-Nab-Awen stage until dusk. All events are free.
Grandville - A packed day of events to celebrate America's independence includes the parade on Wilson Ave at 11 a.m., chainsaw wood carving, a skydiving exhibition, live music, food booths and fireworks at dusk over the Middle School.
Holland - The Celebration Freedom Festival at Kollen Park starts at noon on Wednesday with children's inflatables, games, food vendors, an ice cream social, an animal display and fireworks at dusk.
Complete 2012 Fireworks Guide
by Jim and Jen Shaneberger

Reverend Al Green holds a special place in the heart of Grand Rapidians because for a few years in the mid-50's and 60's, we claimed him as our own.


This soulful R&B giant sold out the picturesque Frederik Meijer Gardens, and packed in a diverse crowd ranging in age from mid-thirties to sixties. Though rain early in the day gave ticket holders a scare, by showtime the 1900-seat amphitheater was a sea of lawn chairs and blankets.

With his start time scheduled for 8pm, the crowd began to get antsy at ten after. They clapped in unison in an effort to coax the band to the stage. As if to build anticipation, the majority of the band hung just barely out of sight by the side stage until they finally kicked off at 8:25pm.


Read more...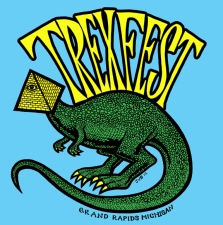 Another gigantic week of events includes the all-new T-Rex Fest, the Reeds Lake Clothesline Art Festival, SiTE:LAB, the Bissell Blocktail Party, Pride Festival, Walker Festival and much more.


Read more...
<< Start
< Prev
11
12
13
14
15
16
17
18
19
20
Next >
End >>
Results 201 - 220 of 916
Featured Articles